Turn of the Century Decor, Modern Comforts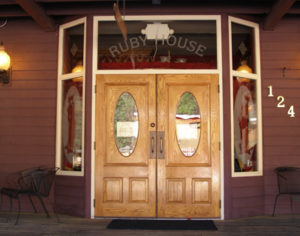 Step thru our doors and we will take you back to the days of the Old West in our elegant turn-of-the-century dining room. Red velvet draperies and wall hangings blend with period pictures and prints beautifully displayed in antique frames. We have antique handguns and rifles as well as carnival glass and china so there is something of interest for everyone.
Indian Taco's are a hit on our lunch menu as well as many sandwiches, wraps, and assorted salads. we have several mouth-watering homemade desserts to top off your meal or try our huckleberry ice cream for a lighter fare.
Our evening menu includes delicious prime rib, steaks, seafood, chicken, and pasta. If you're looking for a taste of the Old West try one of our buffalo entrees. One of our house specialties is our homemade buffalo stew or you won't be disappointed with our tender buffalo ribs that are full of flavor.
We have a kids menu featuring a smaller cut of prime rib for the young'uns, who are always welcome, as well as corn dogs, cheeseburgers, macaroni & cheese, spaghetti, chicken strips, and a quarter rack of baby back ribs.
The Red Garter Saloon next door has a full-service bar to take care of your beverage needs and also sells off sale liquor if you would like something to take with you. Due to separate ownership and licensing of the restaurant and bar, the State of South Dakota requires all alcoholic beverages be paid for separately.
We are open 7 days a week starting mid-April thru October